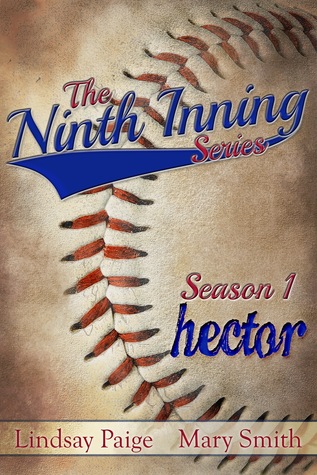 Hector (The Ninth Inning #3)
by
Lindsay Paige
and
Mary Smith
Release Date: November 25, 2015
Genres: New Adult, Romance
My Rating: 5 out of 5 Stars
The Ninth Inning series presents Memphis Angels' first baseman, Hector Rodriguez.
Hector Rodriguez is an easy going guy, the one who tries to make everyone laugh or smile on the hard days. He loves playing baseball, loves his family, and loves chasing the girl who has caught his eye. His two biggest obstacles are getting the girl to give him the time of day and then getting his mother to look past what she sees on the surface.
Zoey Reyes is use to people staring at her because of the tattoos covering her body, but the big tipper who has been begging for her name for two months is the only one who looks at her differently. Once Hector wears her down and finds out her name, she realizes why he is so likeable. However, it's one battle after another for their friendship to grow and Zoey's not sure how much stress she can handle.
Hector and Zoey are making the right plays, but will it be enough for them to come out with a big win?
This is the third book in a two-part series. The series is split into seasons. I would say that the books could be read as stand-alones. Although, reading them all helps you to get all the background information.
I received a copy of this book in exchange for my honest review.
I couldn't just post one quote. But I did narrow it down from five to two. :)
Quote #1
What person in their right mind forgets everything when a guy, and an overbearing guy at that, simply looks at you?
"As long as you realize that while messing up may be inevitable, so is making up. I'm not going anywhere ever. I'll chase you for the rest of my life if I need to, and we both know I won't mind doing that. Things with us wouldn't have been affected my mother either. It would have bothered me, yeah, but nothing in my life has ever felt as right as loving you. I wouldn't give that up, not for anyone."
I've read several of Lindsay's books along with the other two books in this series. This is one of my favorites! It is definitely my favorite in this series so far. I fell in love with Hector along with Zoey. I'm not one to use terms like "book boyfriend", but I did in a message to Lindsay after finishing this book. As the book progressed, I found myself hanging on Hector's every word. He was such a sweet, kind and caring man.
After just two sentences into the book, I knew that I liked Zoey. She was a "starving" artist and was her toughest critic. She had a way with words that makes you chuckle. Here are two examples of her snarkiness. "T
his [a painting she's finished] looks like dog crap with a hint of red streaks" and "...
but the painting isn't even worthy of wall in an outhouse." However, her aunts and Hector are much more open to her greatness as an artist.
We are able to catchup slightly with Felix and Blake throughout the book. But we are also introduced to other players on the Memphis Angels baseball team.
Hector fell in love with Zoey even before he knew her name. Zoey was more reluctant and made him wait before revealing her name and even then it was inadvertently.Both Hector and Zoey are stubborn in their own ways.
The saying opposites attract fits Hector and Zoey to a T. They are from different worlds. Zoey is scared by their differences. But Hector knows she's the one for him. Unfortunately, Hector's mother refuses to accept that Zoey is the girl for him. This causes tension between Hector and his mother as well as between Hector and Zoey.
Then there's the Ending. Yes, I am making that a capital E Ending. Aww, Lindsay and Mary have killed me with this ending. It's not really a cliffhanger. It just ended in a way I wasn't expecting. I was all wrapped up in the pretty package of Hector & Zoey's new romance and wondering what would happen with them next. Then a new ball is thrown into the mix and knocked me for a loop. I can only hope they chose to end it this way because they have thoughts of continuing Hector and Zoey's story.