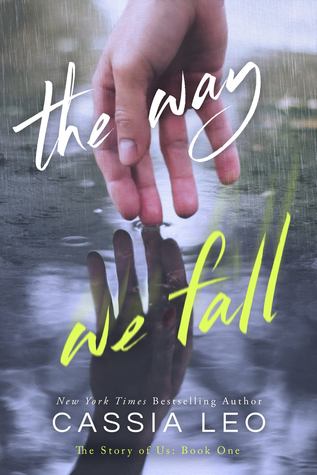 The Way We Fall (The Story of Us #1)
by
Cassia Leo
Release Date: February 20, 2015
Genres: New Adult, Romance
My Rating: 4 out of 5 Stars
Maybe we shouldn't have fallen so fast and so willingly.

Maybe we shouldn't have moved in together before we went on our first date.

Maybe we should have given our wounds time to heal before we tore each other to shreds.

Maybe we should have never been together.

Houston has kept a devastating secret from Rory since the day he took her into his home. But the tragic circumstances that brought them together left wounds too deep to heal.

Five years after the breakup, Houston and Rory are thrust together by forces beyond their control. And all the resentments and passion return with more intensity than ever.

Once again, Houston is left with a choice between the truth and the only girl he's ever loved.
As of the time I'm writing this point this book is free on Amazon and Barnes & Noble. This book does contain sex scenes.
"Lies are comforting. Soft blankets we wrap around our hearts. We roll around in them like fat, happy pigs. Gorging on their decadence. We prefer lies, though we claim otherwise. Trust me. If ignorance is bliss, believing lies is orgasmic."
"She was the drug that numbed the pain, but only temporarily. I just have to keep reminding myself of that so I don't do anything stupid, like telling her the truth."
"This is the way we fall. First we lose our balance, teetering precariously on the edge of uncertainty, until, mercilessly, gravity takes over. You can't outshine gravity."
""Then, she let it go." I don't know if it was his intention, but these five simple words stir a newfound energy inside me. A sudden awareness that I don't have to tell Liam anything about Houston. Liam can be my fresh start. All I have to do is let it go."
I fell in love with this book from the very first paragraph. I thought it was on track to being a 5 star review. However, the end of the book just fell short. It was almost like the author knew that what needed to happen was something most readers would not like. So she drug the story out into a second book.
There are bits of this book that are beautifully written. I've put several quotes above showing examples of this writing. The first quote is the first paragraph of the book. How can you not like a book when it starts off like this?
From the start of the book you can tell that Rory and Houston survived together through the death of someone. We learn later who it was and how this person died. I have to say that the author threw some surprises at me with the answers to how and why.
Rory has loved Houston since she was a young teenager. I have to say that I have a love/hate relationship with their relationship and with the characters themselves. Houston takes more of my hate than Rory does. Their relationship could be so good if it weren't for the circumstances that brought them together and ultimately tore them apart. Houston has the capability to be a sweet boyfriend but oftentimes ends up being a jerk.
I really thought that this book would have me crying by the end. However, we never really get an ending with how the author has chosen to end the book. I will probably continue the series because I want to find out what happens to these characters. The beautiful writing style will also bring me back.