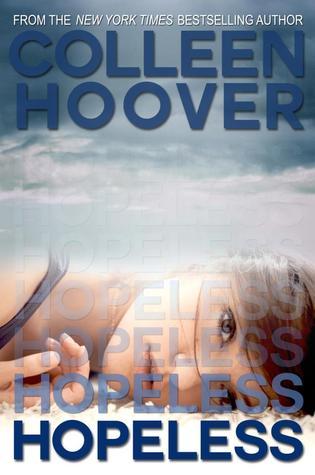 Hopeless (Hopeless #1)
by

Colleen Hoover
Release Date: December 19, 2012
Genres: New Adult, Romance
My Rating: 5 out of 5 Stars
Sometimes discovering the truth can leave you more hopeless than believing the lies…

That's what seventeen-year-old Sky realizes after she meets Dean Holder. A guy with a reputation that rivals her own and an uncanny ability to invoke feelings in her she's never had before. He terrifies her and captivates her all in the span of just one encounter, and something about the way he makes her feel sparks buried memories from a past that she wishes could just stay buried.

Sky struggles to keep him at a distance knowing he's nothing but trouble, but Holder insists on learning everything about her. After finally caving to his unwavering pursuit, Sky soon finds that Holder isn't at all who he's been claiming to be. When the secrets he's been keeping are finally revealed, every single facet of Sky's life will change forever.
This is the first book in a two-book series. I found it difficult to label the genre for this book. The main characters are high school students - one 18 and the other soon-to -be 18. However, they do have sex. So i wasn't sure if it would be Young Adult or New Adult since sex is involved.
Ok, I couldn't just pick one quote.
Quote #1
If I have to read this shit every day, the least they could do is make it interesting.
If I was going to stoop so low as to leave an unfounded note on someone's locker, I'd at least have the courtesy of entertaining whoever reads it in the process. I'd write something interesting like, "I saw you in bed with my boyfriend last night. I really don't appreciate you getting massage oil on my cucumbers. Whore."
Rather than rip the sticky notes off of my locker like I probably should, I take out my pen and make them a little more creative.
Quote #2
Holder gives him a half smile, but he's staring at the coffee cup on Breckin's desk. "I thought Mormon's weren't allowed to have caffeine."
Breckin shrugs. "I decided to break that rule the morning I woke up gay."
Quote #3
You're the only guy I've ever had the urge to lick." He smiles at me confidently. "Good. Because you're the only girl I've ever had the urge to love." Holy shit
At the very beginning of this book, I wasn't too sure about it. It starts out with Sky making out with a boy she obviously doesn't like. I was thinking "This isn't the sort of girl I want to read about." But that is so not what the book is about. Once you get past those first few pages and learn who Sky really is, it becomes an un-put-downable book. Although, with the length of the book you'd either have to be a speed-reader or stay up all night reading. I, unfortunately, am not a speed reader nor able to stay up all night reading. Therefore, I had to squeeze chapters in when I could.
Sky is a refreshing female main character. She doesn't let the little things bother her as witnessed in quote #1 above. She is loyal and loves fiercely. She's also been forced to live a sheltered life and is attending public school for the first time. This makes for some funny situations such as the time when she received a text with the letters "LOL" -- "
Lol? What the hell does that mean? Lots of love? Oh, God, that better not be it. He'll be out the door faster than Matty-boy. But really, what the hell does it mean?". Sorry, I couldn't resist throwing in another quote. The book is just full of so many good quotes.
Dean Holder, known as Holder to his friends, starts off a little stalkerishy but turns into a swoon-worthy young man. From Sky's and Holder's first meeting, I had an inkling that there was some history there. It's latter reinforced with Holder's actions. However, the details aren't revealed until much later in the book.
I have to say that the events of the book did surprise me some. I had my thoughts about what was going to happen. The actual events were along the lines of what I was thinking, but turned into so much more. Its such a sad story, but I loved the way Hoover resolved the issues.
I also loved Hoover's writing style. At one point there is a kiss scene that seems to go on for pages. It was at this point that I realized Hoover was able to describe what was happening so well that it wasn't necessary to write "Next we did ABC. Then we did XYZ." I don't know that I can convey in words my exact meaning, but she has such a fluid and descriptive writing style that I just fell in love with this book.
I'm thinking of being stalkerish and devouring all of her books I can get my hands on this year.