That's What He Said Thursday is a meme hosted by Julie and Lynn at Chapter Break. Come join us every Thursday by posting a favorite line from your book boyfriend to his heroine. Keep in mind these are direct quotes from dialogue in a book. It is NOT a physical description of a male protag or a paragraph of dialogue. It is a line spoken by our favorite heroes to their lucky ladies (whom we so wish we were!!!!!!) sigh…
My post this week is from Hopeless by Colleen Hoover. I will have a review for it up next week.
SYNOPSIS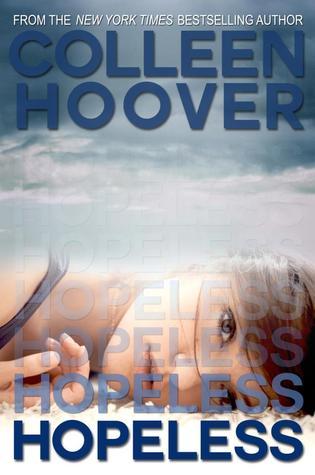 Sometimes discovering the truth can leave you more hopeless than believing the lies…

That's what seventeen-year-old Sky realizes after she meets Dean Holder. A guy with a reputation that rivals her own and an uncanny ability to invoke feelings in her she's never had before. He terrifies her and captivates her all in the span of just one encounter, and something about the way he makes her feel sparks buried memories from a past that she wishes could just stay buried.

Sky struggles to keep him at a distance knowing he's nothing but trouble, but Holder insists on learning everything about her. After finally caving to his unwavering pursuit, Sky soon finds that Holder isn't at all who he's been claiming to be. When the secrets he's been keeping are finally revealed, every single facet of Sky's life will change forever.
That's What HE Said . . .
"Sky, if you're wondering if I have commitment issues, the answer is no. Someday in the far, far, far away future… like post-college future… when I propose to you… which I will be doing one day because you aren't getting rid of me… I won't be marrying you with the hope that our marriage will work out. When you become mine, it'll be a forever thing. I've told you before that the only thing that matters to me with you are the forevers, and I mean that."